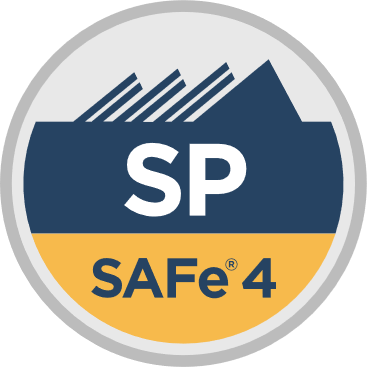 Certification: SAFe 4 Practitioner (SP)
Attendees who pass the certification exam will receive:
SAFe Practitioner certificate
A SAFe 4 Practitioner digital badge to promote your accomplishment online
A one-year certified membership as a SAFe Practitioner, which includes access to the SP Community of Practice
A SAFe Practitioner certification usage guide with SP certification marks
Access to a variety of learning resources to support certified professionals during their SAFe journey
Required course: SAFe® for Teams
Certification level: Core
Job role description / target audience
A Certified SAFe® 4 Practitioner (SP) is a Scaled Agile Framework® (SAFe) team member responsible for using Scrum, Kanban, and Extreme Programming (XP) in a SAFe environment.
Key areas of responsibility include planning Program Increments and Iterations, breaking requirements into stories, developing incrementally with built-in quality, demonstrating value at a team and program level, and problem-solving impediments to drive relentless improvement.
Key areas of competency
Explain SAFe Agile Principles
Plan Iterations
Plan Program Increments
Execute Iterations and demonstrate value
Improve Agile Release Train processes
Integrate and work with other teams on the Agile Release Train
Perform as member of an Agile Team on an Agile Release Train
Exam prerequisite skills or knowledge
These skills and knowledge are highly recommended to successfully pass the exam:
Familiarity with Scrum, Kanban, and XP
Familiarity with Agile concepts and principles
Working knowledge of software or hardware development processes
Exam requirements
The first step toward becoming a SAFe certified professional is to attend the SAFe® for Teams course. This is a requirement, because attending the course provides access to all the study materials and the exam. Note that attending the course does not guarantee passing the exam.
Annual Renewal
Certificates expire one year from the date the certification is earned.
Renewal fee is $100.
Exam details
Exam name – SAFe 4 Practitioner Exam
Exam format – Multiple choice, Multiple Select
Exam delivery – Web-based (single-browser), closed book, no outside assistance, timed
Exam access – Candidates can access the exam within the SAFe Community Platform upon completion of the SAFe 4 Practitioner course
Exam Details
Exam duration – Once the exam begins, candidates have 90 minutes (1.5 hours) to complete the exam
Number of questions – 45
Passing score – 35 out of 45 (77% passing score)
Language – English
Exam cost – First exam attempt is included as part of the course registration fee if the exam is taken within 30 days of course completion. Each retake attempt costs $50.
Retake policy – Second attempt on exam (first retake) can be done immediately after first attempt. Third attempt requires a 10-day wait. Fourth attempt requires a 30-day wait. Contact support@scaledagile.com for any retake questions.
Professional Development Units (PDUs) and Scrum Education Units (SEUs)
Attendees may be eligible to apply for 15 PDUs toward their continuing education requirements with the Project Management Institute (PMI) for PMP, PgMP, and PMI-ACP certifications.
Attendees may be eligible to apply for SEUs under Category C, toward earning or renewing their CSP through Scrum Alliance.