ScrumDesk for Windows is a desktop application that keeps data stored in SQL Server database. Some updated require upgrading not just client application, but database as well.
Following steps guide you during the process of upgrade.
Minor updates
If a minor update is deployed, only ScrumDesk needs to be updated. Typically we deploy it as an automatic update.
You are informed about that with the special message about update availability. To update the installation you need just to agree with the update process.
Major update
Adding a new functionality requires changing database schema as well. Either ScrumDesk desktop client and database must be upgraded.
Database upgrade (On Demand Edition)
Contact our support@scrumdesk.com and send us the name of your database.
Database upgrade (On Site Edition)
This step should be done by your SQL Server administrator.
1. Download Database Manager for SQL Server 2008 or SQL Server 2005.
If you are running 2008 version, you will need to install additional components (Microsoft SQL Server System CLR Types, Native Client, Management Objects from the link according to your server processor architecture)

2. Unzip it to local drive
3. Run ScrumDesk Manager
4. Update database to the current version

5. Then you need to connect to SQL Server where your data are stored. Enter credential allowed to upgrade database and then click Connect.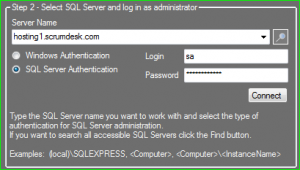 6. If you are connected to the server successfully, you are allowed to choose a database. Database Manager will indicate if the database is supported by ScrumDesk.

7. Now press Update button. The update will be started and indicated by the progress bar.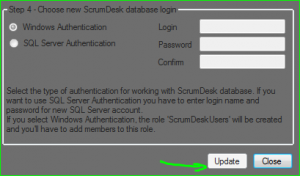 Client update
All team members must update ScrumDesk.
1. Uninstall the current ScrumDesk installation from Control Panel
2. Install version 5 from https://www.scrumdesk.com/Download/FullNG/v5/Publish.htm.
DO NOT DOWNLOAD ANY FILE TO YOUR LOCAL DISC. RUN THE INSTALLATION FROM WEB!
3. After installation is completed, try to login to database you upgraded in previous steps.
In a case of any problem contact our support@scrumdesk.com.