Why we publish this?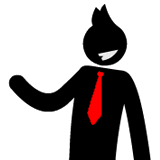 Do you want to start to work with a good product owner but you do not know what is needed for this role?
We saw dozens of incorrect job descriptions which have a little in common with real product ownership. Such a mistake might attract the wrong person capabilities into the team on this the most important role for a product company. Small mistake here might mean a huge impact on the product, business and teams at the same time.
ScrumDesk Consultancy Services supports agile transformations since 2010. Since then we worked with companies from multiple business areas.
The following job description is in our opinion an essence of the product ownership job that is necessary for successful product owner candidate or position within the company.
Who is Product Owner?
Product Owner is a professional responsible for setting, prioritizing, and accepting the work generated by a team in order to ensure the most valuable and proper functionality of the product.
As Product Owner, you will gather feature requests, schedule releases and coordinates sprints. You should be able to identify user needs, help a customer understand a business value and work with cross-functional teams to manage product releases.
Your effort is important for the company as you will need to deliver product not just according to users, but the product that helps make our company vision reality.
Expected accountabilities
Serve as the voice of the client.
Work with internal and external customers to analyze the needs and align product roadmap to strategic goals.
Owns the product roadmap.
Develop scope and define backlog items (epic/features/user stories) that guide the Agile software development team.
Solve product related problems, make decisions, complete trade-off analysis to stay on track towards business deliverable commitments.
Draft key objectives and results, strategies and apply the data for the product to make business decisions.
Possess a fundamental understanding of end-to-end customer experience integration and dependencies.
Collaborate with stakeholders during the visioning and concept development of a product.
Accountable for the created product(s), delivering in the product model and communicating the product needs with business partners.
Asses value, develop cases, and prioritize stories, epics and themes to ensure work focuses on those with a maximum value that are aligned with product strategy.
Identifies and help the client understand the business model, value and value proposition.
Develop and maintain an appropriately prioritized backlog of user stories for implementation.
Act as an ambassador for the product internally and externally and as the primary contact for queries related to the product.
Develop appropriately detailed specifications for the product features so they are clearly understood by the development teams.
A leader of the team.
Represents team in front of stakeholders, clients or users.
A member of the team.
Work closely with product management and senior management in order to create a product that fits the company portfolio.
Research and analyze market, the users, and the roadmap for the product
Follow our competitors and the industry
Increase an understanding of  Agile practices, Lean Startup, new technologies opportunities and other new trends.
Experience
Entrepreneurship skills or experience.
Creative thinker.
Strategic thinking.
Product Management.
The experience in sales or marketing is an advantage.
Management of stakeholders and their expectation.
Deep understanding and experience with Agile methodologies.
Ability to work with cross-functional teams to deliver on a common goal.
Interpersonal skills and developing relationships with team members and customers.
Experience with a definition of minimum marketable features and minimum viable products.
Knows how to define the product roadmap.
Outstanding communication, presentation and leadership skills.
Organizational and time management skills.
Analytical and problem-solving skills
Attention to details.
Discipline.
Active listening.
Overall understanding of technologies used in the product.