Move your projects with best agile practices!
web application free for up to 4 users, no credit card required
for teams bigger than 4 the first 30 days free as the trial, billed after the second month
Hundreds of requirements? Do you miss the transparent and easy way to see the status of product/project implementation?
With requirements on visual cards and in the multi-level hierarchy you will not get lost. The card keeps all necessary details, attachments, and communication in one, central, place.
Breakdown the problems with epics, features and user stories. Requirements might be of multiple types so you have business requirements, defects, technology debt or even DevOps tasks at one common place.
Once requirements are defined, it is necessary to plan the implementation. With ScrumDesk you can think mid-term and short-term at the same time.
Roadmaps let you schedule features into the plan that can include multiple milestones as well. Once the development is started, ScrumDesk will show you reality vs. your plans.
Then you can plan release and sprints to let the team focus on the most important requirements. Meanwhile, you will have time to detail additional requirements.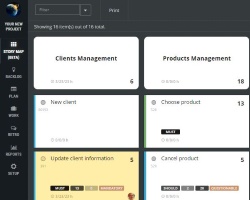 REQUIREMENTS MAP
see the whole
REQUIREMENTS MAP
See all requirements in user stories map
Multi-level hierarchy of requirements
Track business initiatives with themes
Organize requirements in features and epics
Multiple predefined requirements types
Estimate needs, business value, and risk
Customize own templates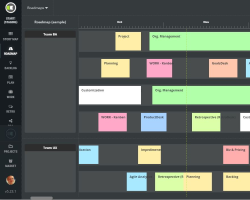 ROADMAPS
think mid-term
ROADMAPS
Schedule epics and features
Milestones
See releases and sprints
Check reality vs. plans
Design with drag and drop
Share with the team
Instant synchronization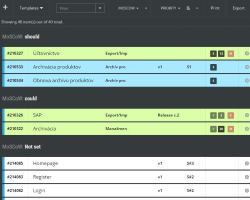 SCRUM BACKLOG
set an order
SCRUM BACKLOG
Order user stories in as a list
Grouping, sorting, filtering
Statistics
Drag and drop
Export to Microsoft Excel CSV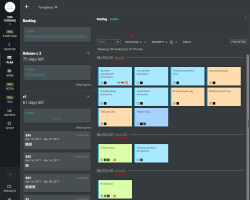 PLANNING
what is the next?
PLANNING
Releases (program increment)
Sprints
Plan more iterations ahead
Capacity indicators
Plan based on historic velocity
Prioritization by drag and drop
Print cards
MANAGE PROJECTS WITH SCRUM
Manage tasks on visual Kanban boards. Change status by drag and drop between multiple columns representing a status of the task. You can customize workflow with one click on the board.
Tasks are displayed as colored cards. They might be of multiple types to keep the consistency. Sometimes the work can't be done. To recognize blockers faster, ScrumDesk allows team mark such tasks with impediment or waiting flag.
Fast editing with automatic save. All changes are synchronized instantly without the necessity to refresh the page.
Detail information was selected thoroughly together with agile coaches considering real-life agile reality. Everything needed for agile development is there. If you still miss something, add it with custom fields.
Reports are current at any moment without additional necessary actions. To support your stakeholders, they can even be printed or exported as PDF. In addition, reports are focused on predictions and identification of mistakes in the Scrum process.
You can't do the work the same way in the era of constant changes. The speed of business, competitors and fast changes of technology urge you to improve continuously.
ScrumDesk is the only tool on the market which integrates retrospective as a tool for identification of waste and improvements ideas as part of the project management. To make them more fun we selected the best 14 retrospective techniques suggested by agile coaches.
The team can evidence ideas of multiple categories, agree on top most important with voting and then track an implementation status. Either the team is collocated or distributed. Because any change is synchronized instantly.
And in the case the problem is more complex, the team can do root cause analysis with causal loops diagram or mind map. Deep dive with 5 why technique, identify causes & consequences, see cycles to break.
ScrumDesk is done brutally well. Simple and it offers everything I do expect that should be included in!
ScrumDesk is unique task manager.  It is strictly consistent with the methodology, at least in the sense that we understand Scrum.

We tried a variety of options, including those listed above, but stopped on this scrum project management tool.
 I love the way it makes the work planning efficient. Once I enter stories/features/epics I can reuse them in other templates and plans!
Your ScrumDesk is brilliant! We tried to use Jira, Aha.io and many others, but that's what you do… There is no words to describe UX and simplicity.
Your ScrumDesk has been invaluable for planning my bachelors project. Thank you!
Was really taken by surprise on how much of flexibility a simple card is provided with literally able to do everything that i could do on an index card in just one click.
If you look for a high tech tool, ScrumDesk is one that you can consider.
First of all i would like to say that your app is the best one I've found after several test with other apps!. Great work!
Awesome. The last release was extraordinary! Nice work!
Thank you so much. ScrumDesk is a very good tool.
Thank you for your responsible help and support.
There is the only functionality that for me, is missing for this product to be perfect.
Thanks for considering my request. More power to the team!
We are starting to use scrum for our dev team and your soft seems like what we need. Nice and lightweight interface!
Excellent. You always seem to be one step ahead.