Invite team members to ScrumDesk
Once your project is set up, it is the best time to invite your colleagues into it. The team can be managed on the project setup page where all team members are displayed and their roles can be changed as necessary.
Project management is possible via Project Homepage accessible in the left menu.

All project team members are displayed on cards with contact details in case you need to talk to them.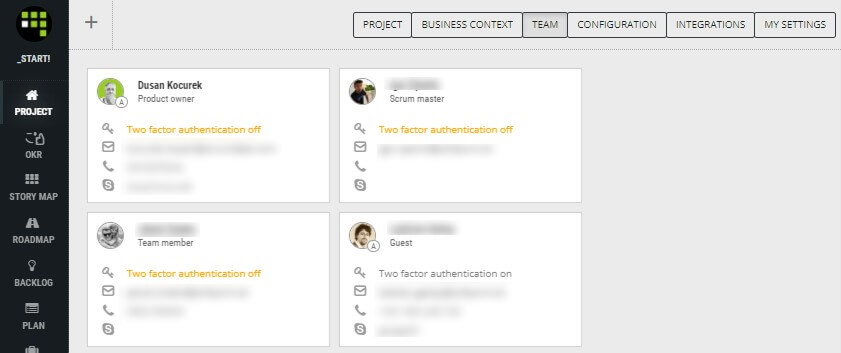 Add a new user
To invite your colleague just press 

button. Then just enter a colleague's email, or username if she is already invited into the organization in a different project. Just type her name and it is going to be listed.
Do not forget to set up a correct role as actions in ScrumDesk are available based on the role. If the Project administrator check is checked to Yes, the invited user will be able to set up the project and invite additional colleagues as well.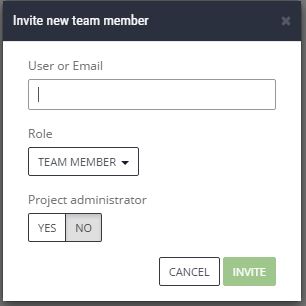 Your colleague will receive an email with the invitation. She should click the link in it to accept the invitation. Until then her card will be grayed in the team members list.
Manage the role
ScrumDesk provides access based on the role of team members:
TEAM MEMBER is able to create tasks, estimate them, track work, and comment items. She is not allowed to prioritize, plan sprints and releases.
PRODUCT OWNER is able to create new backlog items and plan iterations.
SCRUM MASTER can do everything.
GUEST team member is able just to read the information. Typically this role is for stakeholders, colleagues from other related teams, or managers.
< Create new project | Content | Activate/Deactivate users >