User Story Template
How many times have you had to add the same tasks again and again? How many times did you want your team to be consistent with subtasks? Of course, there is the definition of done that is an agreement about tasks you want to have in every story, but do you apply it in real life?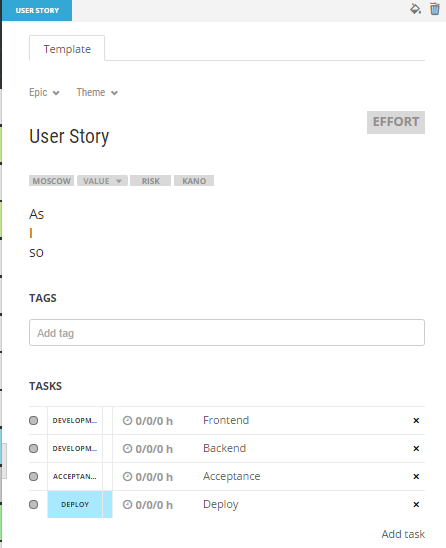 User story templates significantly speed up the creation of consistent user stories.
The template is the prescription of new stories that can have the following attributes set immediately once created:
backlog item type,
color of a card,
default title,
default epic and theme,
prioritization fields (MoSCoW, business value, risk, and KANO),
default effort in story points,
template for story description,
default tags,
and default subtasks defined by their type, color, time and title as well.
You can define default templates for defects, technical debts, research, or just stories for a particular business theme or epic.
To add new story template click Templates in the User story map, Backlog or Work view. There you can display template details by clicking on it or adding a new one by clicking on the + button.
Create a new story from the template
To create a new story from the existing template just drag the template card from the list or double-click it. The newly created story will have all necessary attributes predefined from the template. With colors and tasks as well.
< Backlog management |  Content | Print backlog items as cards >