What is Objectives and Key Results?
Agile teams are often focused on building and delivery of their products with help of Scrum or other agile practices. Scrum defines the development process in lightweight form and it has been proven as a very successful framework. An introduction of Scrum in the company is however not enough to build a successful company.
Many companies working in an agile way found they still need overall vision and objectives to guide teams and give them the purpose why they do build products they are building.
The North Star is very important for the agile company. Agile practices are great for the dynamic environment. They help companies survive in such conditions. Especially such a dynamic environment, however, need a common understanding of destiny. Where do we go and how we will know that we reach destiny,
Fundamental questions for successful product development

What should it be done next?

How far are we now?
Objectives and Key Results
OKR was implemented first in the 1970s by the famous Andy Groove, the President of Intel. Since then, a lot of successful companies are driven with help of OKR (Google, LinkedIn, Oracle, Facebook, Twitter, etc.).
Objectives and Key Results is a popular leadership process for setting, communicating and monitoring goals and results achieved by the organization in a particular timeframe. OKRs connect company, product, project, team and personal objectives to follow the same route towards destiny.
Objectives and key results represent a hierarchical split of the description of the targeted vision. At the top, there are typically 3-5 high-level objectives. Every objective is measured by 3-5 key measurable results.
Activities or product features necessary to be done for any Key Result are connected to that key result. They are guidelines, the roadmap, what needs to be done to achieve results and objectives related to the targeted key result. Activities, epics and features are maintained in ScrumDesk in form of the Product Backlog where the relation to the Key Results can be tracked.
Why Objectives and Key Results?
Common vision
Clear priorities
Known expectations
Daily focus
How to start with OKR?
Set quarterly goals, objectives.
Define measurements, key results for every objective so you know if you are successfully approaching them.
Share it with your team.
Connect them to activities and to your product backlog.
Make everything transparent.
Few OKR examples
Objective A: Increase recurring revenue

Key Result 1: Minimum 1500 total monthly subscriptions.

Key Result 2: Average size $180 per subscribed accounts.

Key Result 3: Less than 2% churn rate per month.

Objective B: Minimum 75% of annual subscribers 

Key Result 1: Convert 50% of existing subscribers from monthly to annual prepaid program in the first 2 months.

Key Result 2: Convert 75% of existing subscribers to annual prepaid in the first 6 months.

Key Result 3: 80% of new customers subscribed for the annual prepaid program.

Key Result 4: Annual prepaid program is the default financial plan offered to customers in our applications.

Key Result 5: Additional discounts are offered to customers after the first month of monthly subcsription.

Objective C: Increase satisfaction of customers

Key Result 1: Understand 20% of customers journeys which brings 80% of value.

Key Result 2: Simplify identified 20% of customers journeys.

Key Result 3: Start to measure Net Promoter Score in the application.

Key Result 4. Achieve NPS=+50% in the first quarter of 2019.
How to connect Objectives & Key Results (OKR) to Product Backlog?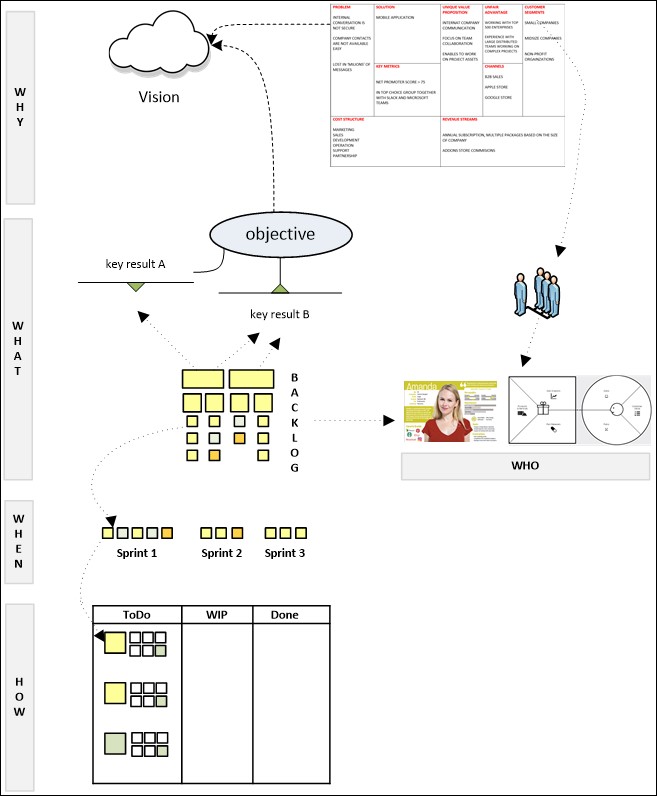 25 Objectives & Key Results anti-patterns