Ten years seem like a lot of time but despite that, a lot of people claim that Agile practices are still very young.  
In 2008 we began to apply then-unknown Agile, and back then we had completely different concepts compared to today. Agile seemed rebellious at that time. Essential, simple, something for non-bureaucrats and practitioners. The real discipline and extent of the changes they require were not so obvious.  
First few years of Agile in Slovakia
Later, in 2010, a group of enthusiasts organized the first conference in Slovakia about Agile, the ScrumImpulz conference, we did not expect much interest. Our goal was to show that even in our country there are people who want to work not only for the money but for functional products for which they get 'recognition' of clients in a normal working environment without unnecessarily complicated processes, in a great team and moreover without unnecessary effort devoted to something that users won't even use. People who just want to sit down and create a product that will please not only the users but also the authors. And then, of course, get the well-deserved money. 

We were surprised by the interest of our first year. The room in Košice was small. The best thing was that there were more questions than answers. Pioneers gained the courage to try in practice.  
The following years
The next period was followed in the community spirit. In Slovakia, Agile@Slovakia, a small community of people who decided to help each other, has started running in Košice and Bratislava. Today it is quite common to go to a meetup, but it was the Agile community that was one of the first ones in Slovakia.  
The following years were more about basic questions and experiments. Discovering practices like Scrum, Kanban, TDD, BDD, Continuous Integration, DevOps. Discovering new roles such as Product Owner, or ScrumMaster. Searching for answers to questions like: 'Agile in the bank, telco, government projects, how to budget, searching for tools' and the first implementations of Agile in small and more courageous companies which realized that it would help them become more competitive on the market and more interesting for the employees. 
Boom
Four years ago the dam broke. The stories from the Agile transformations presented during the conference definitely contributed to that. Agile has become interesting for almost every IT company. For some of them so much that they even started to completely change the modus operandi. Changing the structure of teams, being transparently open to clients and even changing the business model, where the supplier is the partner of a client who not only does what the client wants but also helps him find what he really needs.  
New patterns also appear. Agile is not suitable for everyone, some people find it quite radical and feel uncertain. Can I really say that I don't know something when in the previous company I was scalded when I admitted that?  Can I change myself when management itself does not change? Can I trust, that he is taking that seriously or should I just wait until the storm is over?  
The cause of several failures has been the missing mentoring and experience. Teams wanted to change their workflows for years, yet the management wouldn't listen. The management wanted to change the teams. By the time the management understood what is truly going on the trust of the teams was already broken. And that's why not everyone from the team wanted Agile.  
It was a lot easier in the old world. Give me a task and I will do it. In the new world, I can choose what I know or even what I want. But I have to commit to finishing it. Whilst doing that, I will help my colleagues, get my results checked, agree about the next steps daily, meet with the customer and demonstrate how it really works. There is not enough time for that? In reality, there is more than enough. All you have to do is choose 20% of important (not urgent) requirements. The ones that will help the clients the most. Utopia? 
The last two years determine the future
We can see that in the practice. It's not just a matter of Agile. Indeed, market pressure and competitiveness are also part of that. New technologies that are being upgraded faster than ever before. The onset of AI, machine learning, voice assistants, automatization, cloud and digital transformation of companies requires speed, focus on the value and significance. In addition, such companies remain interesting for IT guys who are not on the market.  
Agile is no longer just a matter of IT in a company. It also includes commerce, marketing, and operations. Some companies even made a more radical transformation of management into a supporting role. They care about the work system, not people. They even become team coaches and are interested in personal growth and problems. 
Even complex products are nowadays made with simple Agile practices. Planning together since the beginning with 50 and more people. Teams create their own rules which they try to measure, keep up with and improve. Companies also allocate budgets to team development. Clients are aware that they need to invest not only in business assets but also in technology and teams themselves. Even though they are from the supplier. And the suppliers in IT then start to understand that they are the clients who in fact decide what to do and when. And that transparency and real, genuine partnerships are a necessity in today's world and US and THEM is no longer valid.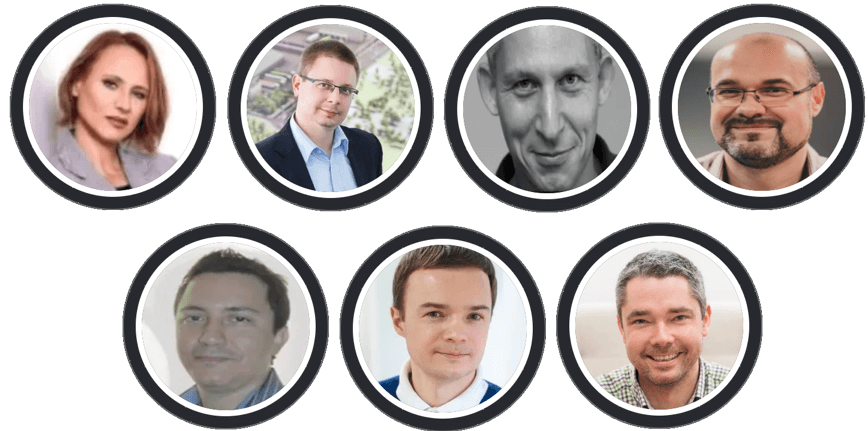 Would you like to know more?
We would like to invite you to the sixth year of ScrumImpulz conference, where you will get to know about: 
about the current state of Agile in Slovak companies during the lectures,

 

you will be able to get in touch with people in the industry during the Coaching Clinics,

 

learn more about Agile, Scrum, ScrumMastership and Product Ownership during public training,

 

and share your own story during Lighting Talks.

 
On May 31 in Bratislava you will get to know: 
how was the famous Slovak company which is no longer a startup successful with Agile,

 

or in the company that's more than 100 years old,

 

how to teach using Scrum in Slovak schools

 

and of course, news from the Agile mentors from abroad.

 
Lectures will be given by Marina Schiffer (GER/SK), Martin Strigač (SK), Danko Kovatch (IL), Ján Majoroš (SK), Fernando Colleone (BR/CZ), Timofey Yevgrashyn (UA/GER), Antonín Moravec (CZ). People who run businesses, create products, implement projects and above all of that, support colleagues and the community. 
A day full of inspiration and questions. 
You can find more on www.scrumimpulz.sk