Choose ScrumDesk edition
ScrumDesk suite is offered in two editions:
ScrumDesk Start! for small teams who need to manage projects with the help of Scrum.
ScrumDesk Professional! for companies that design and develop products with help of agile practices and Scrum project management. Professional edition includes Start! functionality as well.
ScrumDesk Start! offers:
Manage product backlog as an ordered list.
Standardize requirements structure with story templates.
Mark requirements as ready or blocked.
Move, clone, and split requirements.
Track epics, themes, user stories, bugs, technical and research tasks.
Plan and track releases and sprints.
Estimate effort with the Planning Poker scale.
Track work on Kanban board. Track estimated, remaining and spent time. Multiple types of subtasks.
Evaluate your progress with reports.
Print documents and cards.
ScrumDesk Professional! includes Start! functionality plus:
Management of complex product backlog with multi-hierarchy.
User stories mapping to see the backlog in 2D.
Track epics and their features (plus subfeatures)
Roadmaps to plan epics and features, milestones and to track reality vs. plans.
Capacity planning.
Possibility to customize workflow of Kanban boards.
Retrospectives with 10+ techniques to improve your team and process.
Root cause analysis to identify real reasons for your blockers.
Find process and discipline bottlenecks with quick filters.
Agile coaching tips.
How to activate the edition
To activate, or deactivate the edition, go to Account settings available for account administrators by click on the avatar displayed in the left bottom menu.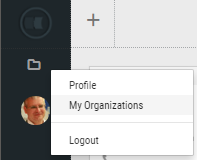 Then administrator should choose the organization which accounts she wants to change.

The MARKET tab is displayed on the Account page where the administrator is able to select the edition.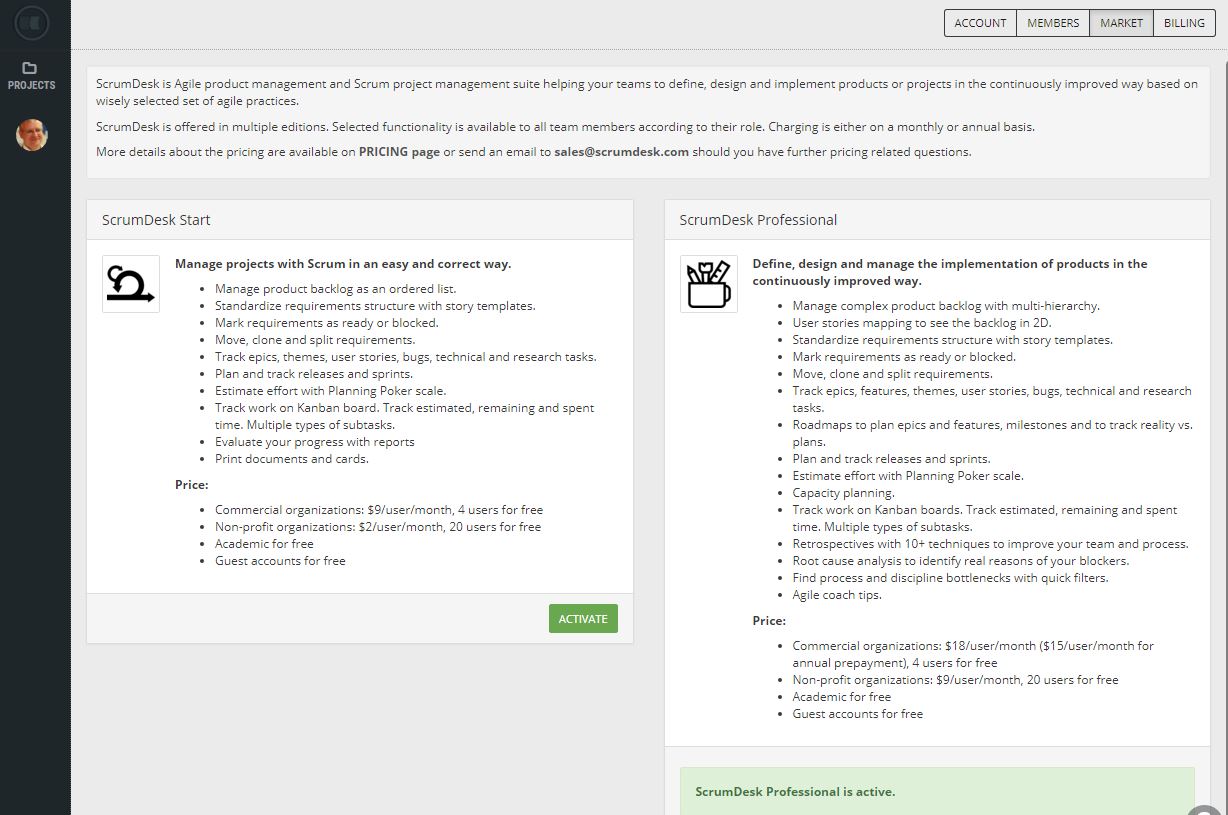 NOTE: This change can impact your invoice issued in the next month as the price is based on the selected edition.
Functionalities will be available in the left menu based on the selected edition. On the picture below is RETRO available in the main menu when the user activated the Professional edition.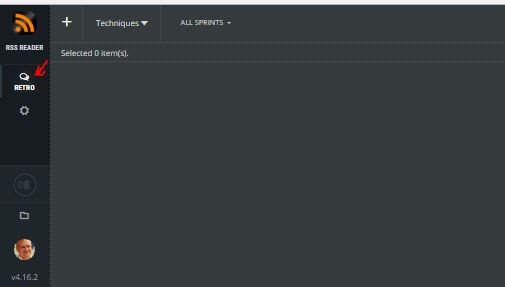 Further details about the pricing details are available on the PRICING page. Do you still have some questions? Do not hesitate to contact our sales@scrumdesk.com.