Did Story Map and Retro menu items disappear from the left menu on ScrumDesk Start? Your 30 days trial period is over.
ScrumDesk consists of multiple modules:
ScrumDesk – the module for Scrum project management available for all customers for free.
ProductDesk – commercial module ($99 one time payment per company) that helps product managers/owners to define the product, its vision, features, roadmap and map customers. The story map is a part of this commercial module.
RetroDesk – commercial module ($70 one time payment per company) that allows gathering, vote and track ideas and implementation of them.
RCADesk – commercial module ($99 one time payment per company) that helps identify root causes of problems.
Trial period
Commercial modules are available for free during 30-days trial period. They can be activated or deactivated in Account Settings/MARKET section.
Account administrator (typically the first who registered ScrumDesk) should click avatar icon displayed in the left bottom menu.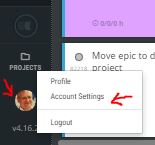 Choose the organization which account should be modified.

MARKET tab is displayed in account page where an administrator is able to activate or buy modules.

How to buy module
Billing Details
Billing details must be filled-up before you will buy any module. Do that on Account Settings/Account page. Once you update your account, continue to MARKET section.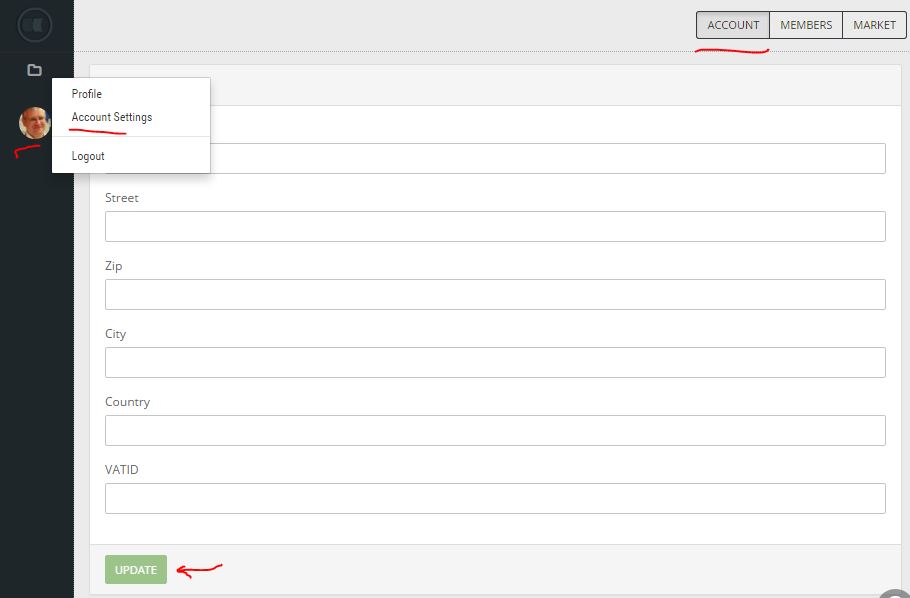 Buy a module
To buy commercial module:
Go to MARKET section

Login to ScrumDesk
Click avatar in the left menu.
Click Account settings.
Choose for which organization you want to buy some commercial module.
Check if your billing details are filled-up.
Click MARKET

Click Buy button.
Our sales will contact you via email regarding an invoicing and payment. You will be able to use modules meanwhile.
By paying for a module you will get lifetime free support including all future updates available for free. The price is per company, not per users so do not be afraid about exponential charging like our competitors do.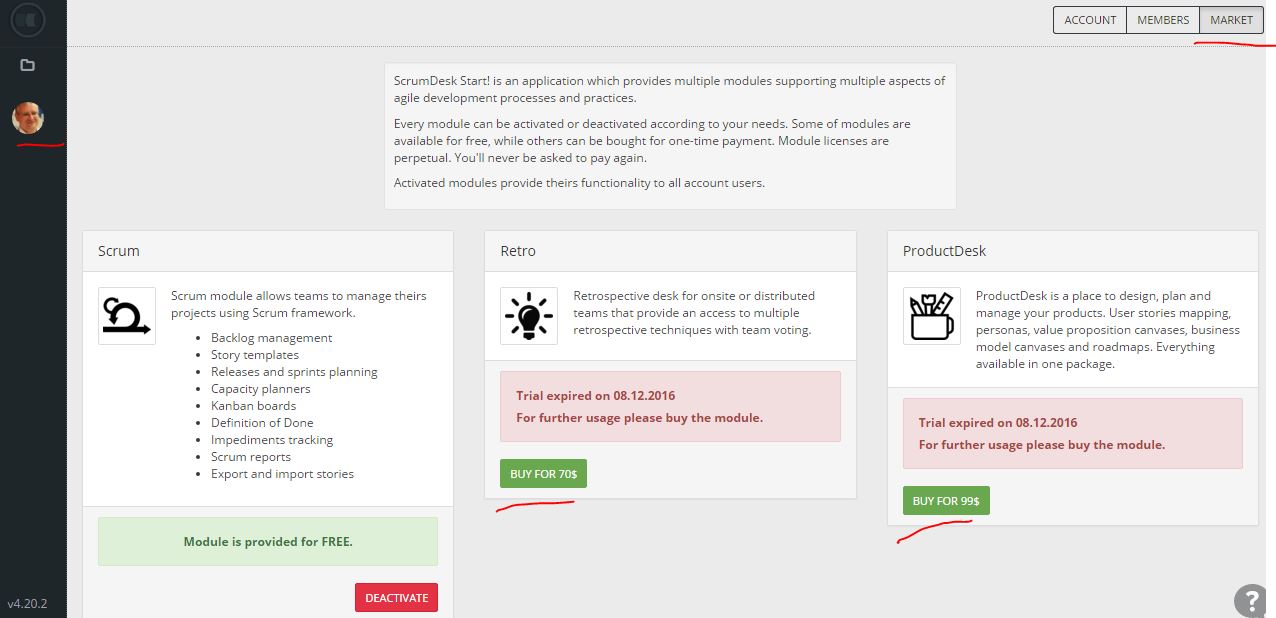 Are you academic or non-profit organization?
These steps should be done by academic and non-profit organizations as well. Modules are provided for free so do not be confused by click BUY. We will not send you an invoice.
Do you still have some question? Do not hesitate to contact our sales@scrumdesk.com.