About Spaces
📚 Elevate Your Documentation Game with Team Spaces in ScrumDesk!
Team Spaces, the dynamic Wiki module within the ScrumDesk application, is here to transform the way you handle project-related documentation. It's all about providing a unified platform where your teams can effortlessly organize and access essential project information, seamlessly integrating it with other project assets.
In the fast-paced world of agile project management, not everything that's vital to your success neatly fits into the Product Backlog's user stories or tasks. There's a wealth of rich, valuable content that deserves its own dedicated space, and that's where Team Spaces truly shines. By offering a structured environment for this content, Team Spaces ensures that no essential detail is lost, making it easier for your teams to maintain and refer back to this crucial information.
But that's just the beginning of what Team Spaces has to offer. Beyond project documentation, it's also the perfect repository for team-related agreements, values, and any other essential insights that facilitate seamless team alignment. With Team Spaces, your team can easily access and share knowledge, strengthening collaboration and cohesion, all within a single, intuitive platform.
By centralizing your project and team information, Team Spaces ensures that nothing slips through the cracks, making it a game-changer in enhancing your team's productivity and performance. Say goodbye to scattered documentation and hello to a unified, agile workspace with Team Spaces. It's time to unlock the full potential of your agile project management. Embrace the future, and get started with Team Spaces today! 🚀📖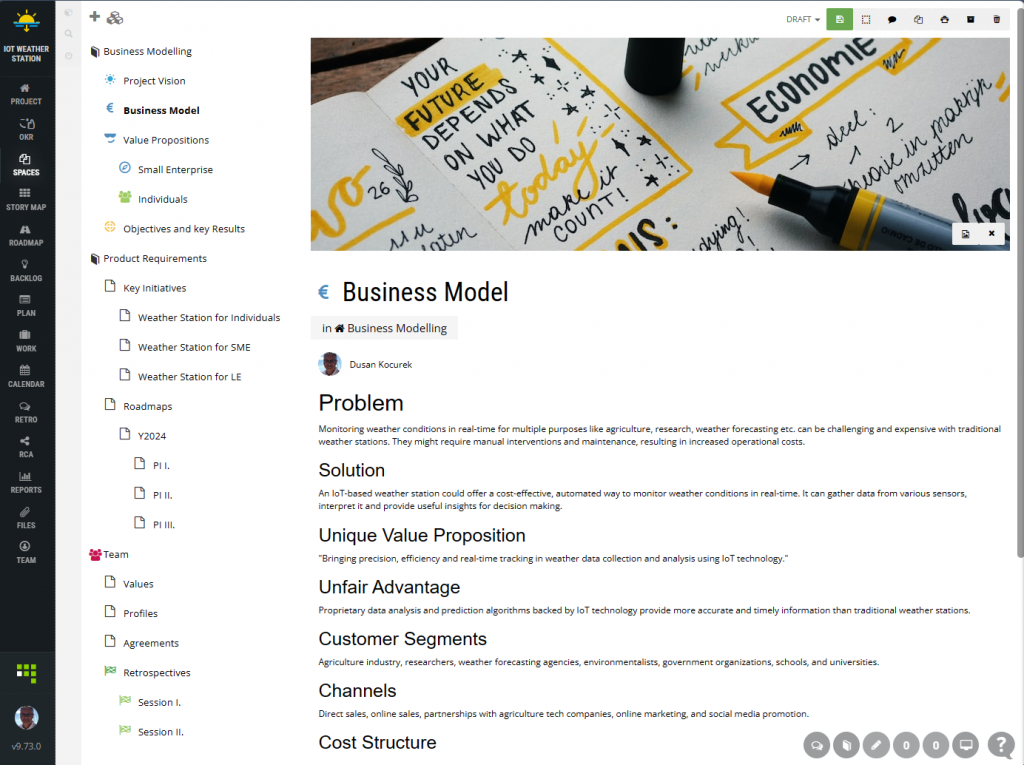 Spaces Navigator
🚀 Simplifying Team Spaces Navigator for Easy Access to Wiki Pages!
In Team Spaces, we've made it super simple to access your project's wiki pages. When you open the Team Spaces window, you'll notice the Space Navigator panel on the left side. This panel is your quick gateway to all the pages stored in your project spaces.
Here's what you can do with this handy navigator:
All Pages: This view lets you see all the pages neatly organized in a hierarchy. It's like a structured list of everything in your project.
Search in Pages: This feature is your fast track to finding specific information across all pages. Just type in your search query, and it will hunt down the relevant info for you.
Recent Pages: This panel lists the pages that have been recently changed, either by you or other team members, in the last few hours. It's a great way to keep tabs on what's happening in your project.
Each node in the hierarchy represents a separate page, and you can fill these pages with content. This allows you to create detailed pages that aren't just tucked into folders; they can have their own descriptions. This structure makes your spaces clearer and makes it easier for you to find your way around.
You also have the flexibility to add a new page at the top level or create a new page from a saved template. To make things even simpler, we've added page icons to help you identify and locate specific information more quickly.
With Team Spaces Navigator, we've taken the complexity out of managing your wiki pages, making it easy for you to access and organize your project's information. Give it a try and see how it streamlines your workspace!
Space Editor
🌟 Discover the Power of Space Editor for Effortless Editing!
The Space Editor is a WYSIWYG (What You See Is What You Get) editor packed with various styles and AI-supported functions to make your editing experience a breeze. With it, you can:
📌 Create Headings
📄 Format Text
↔️ Align Text
📇 Indent Content
📊 Design Tables
🔗 Insert URL Links
Each page you create has its unique page icon, and you can even add a splash of color to make it stand out for quick recognition. Whether you're working on a page over an extended period, you can keep everyone in the loop about its status. You can mark it as a draft, indicate it's in the review process, or proudly label it as published.
What's more, you have the freedom to archive pages or restore them to keep your information current. These pages are neatly organized in a page hierarchy, and you can easily reassign parent pages to fine-tune the structure.
To add a personal touch and distinguish your pages, you can set a cover image from various options:
🌄 Choose a picture from Unsplash's vast image library
🌈 Select a simple color from the palette
🖼️ Pick an abstract picture from ScrumDesk's gallery
📷 Upload your very own image
🔗 Use a picture link
🧠 Get creative with an image generated by the AI-powered Dall-E service
The Space Editor offers you a world of possibilities, making editing, tracking, and personalizing your pages a delightful experience. Try it out today and unlock the full potential of your editing capabilities!
AI in editor
🚀 Supercharge Your Content Creation with OpenAI Integration!
Our editor now offers seamless integration with OpenAI, designed to turbocharge your content creation process. Thanks to AI, you can:
🔍 Summarize selected text
✍️ Expand selected text
🔢 Transform text into numbered bullet points
✒️ Continue writing from the selected text
💼 Elevate the tone of your content to a professional level
✅ Check and correct grammar in real-time
🗨️ Engage in AI completion dialog for in-depth inquiries you don't want to include directly in your text but need answers to.
AI makes it possible to craft compelling content in just minutes and find answers to even the toughest questions without ever leaving ScrumDesk.
And the best part? ScrumDesk provides every organization using our products with ten free AI functionality requests each month. So, you can harness the power of AI without breaking the bank!
Templates
🌟 Unlock the Full Potential of Document Templates!
In your quest for streamlined document management and supercharged productivity, document templates are your secret weapon. These versatile tools empower you to reuse your documents time and time again, revolutionizing the way you work. Let's dive deeper into the benefits:
Limitless Reusability: By storing your documents as templates, you open the door to limitless reusability. No longer do you need to recreate the wheel each time a new document is required. With a few clicks, you can create fresh documents from saved templates in a matter of seconds, saving you valuable time and effort.
Consistency is King: Maintaining consistency across your content is paramount, whether it's reports, manuals, or any other type of documentation. Templates ensure that your content remains cohesive and in alignment with your established standards. Say goodbye to the headache of maintaining consistent formatting, branding, and language across your documents – it's all at your fingertips.
Categorization and Tagging: To keep your templates organized, they are thoughtfully categorized and tagged. This makes it incredibly easy to locate the right template when you need it most. Finding the perfect starting point for your document creation process has never been more straightforward.
Effortless Searching: Need to find a specific template? No problem. Our system enables quick and efficient searching. Simply enter a keyword, and our search functionality scans through template titles, descriptions, and even content to pinpoint the ideal template for your needs. It's like having your very own document librarian at your service!
With document templates, your workflow becomes smoother and more efficient than ever before. Whether you're working on routine reports, crafting intricate manuals, or any other document-related task, templates are your trusted companions. They empower you to achieve consistency, save precious time, and enhance your document management like never before.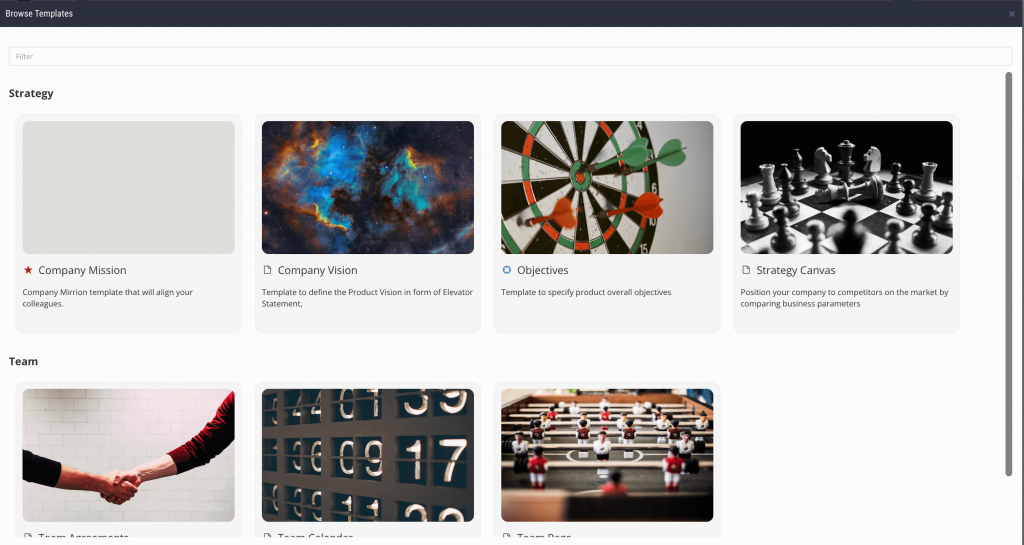 Additional features
📣 Enhancing Collaboration with Comments!
In the world of efficient collaboration, comments are your trusty companions. Team members have the freedom to comment on content, fostering seamless collaboration and teamwork. Here's how they work their magic:
Unleash Creativity: Team members can freely express their thoughts and ideas through comments, creating a dynamic environment for brainstorming and discussion.
Resolution Tracking: Comments can be marked as "Resolved," providing a clear trail for tracking which comments have been addressed and incorporated into the text. This feature ensures that no valuable input is left behind, and every suggestion is given its due consideration.
👁️‍🗨️ Changes Overview: Keeping Tabs on Modifications
Change is inevitable in any collaborative endeavor, and with our platform, you'll always stay in the loop. We keep a meticulous record of all changes, showing you exactly what has been altered, when it happened, and who was responsible for the modification. This change overview feature provides transparency and accountability, making it easy to trace the evolution of your content.
📰 Printing and Exporting Made Easy
When it comes to sharing your content, we've got you covered. You can choose to print your content on paper, preserving it in tangible form. Alternatively, you can effortlessly share your work in PDF format using the browser-integrated "Save to PDF" functionality. This flexibility ensures that your content can be easily distributed, whether for review, presentation, or archiving.
Our platform is designed with your convenience in mind, ensuring that collaboration, change tracking, and content sharing are seamless and accessible. Elevate your teamwork and document management with us, and experience the power of these features in action!
Finally
🚀 Introducing Team Spaces: Turbocharge Your Agile Workflow!
In a world where Agile reigns supreme and results trump documentation, there's no denying that the power of rich text is still a necessity in the face of ever-increasing complexity. The need for speed is undeniable, and we've got the perfect solution!
Meet Team Spaces, the game-changing functionality brought to you by ScrumDesk, designed with one mission in mind – to enhance your Agile journey and supercharge your team's productivity.
🔑 Why Team Spaces?
Seamlessly align your teams: Perfectly crafted for your agile development projects, Team Spaces is the answer to your alignment needs.
Streamlined functionality: We've meticulously tailored every feature, ensuring it enhances your workflow without adding unnecessary complexity.
Unleash AI for lightning-fast content: With the power of AI, content creation has never been smoother or faster, allowing your teams to focus on what truly matters.
Ready to take your Agile game to the next level? Team Spaces is your secret weapon! Embrace the future of Agile project management and experience efficiency and value like never before. Don't wait – unleash the power of Team Spaces now! 🚀💪