Manage your mid-term plans
Product Owners should plan for more than just one sprint ahead. The mid-term planning increases the transparency for business stakeholders and teams regarding what should be completed next.
Roadmaps in the timeline are excellent visualization of complex plans. But at the same time, they might be too complicated to care for.  Modern agile project management framework introduced an alternative approach to managing the product roadmap easier.
Roadmap lists are efficient and a handful to engage the communication on priorities. Roadmap lists also allow tracking the status of epics preparation.
ScrumDesk v9.70 introduces a new default view for project roadmaps. The Roadmap allows Product Owners to:
define your lists,
see all archived and unarchived epics in lists,
change the level of details displayed on cards,
filter items,
assign epics or features to a list,
change priorities by drag and drop,
set Work in Progress limit indicators to speed up the delivery and focus the team on finishing,
set a planned start and due date to let your stakeholders and team members understand the time aspect of the product delivery.
Examples of roadmap lists
We started to think about this feature based on your requests and feedback. Agile project management maturity has significantly increased. These days not only simple projects are managed with the help of Scrum. The complexity of business requirements often asks for continuous and regular alignment of stakeholders. It asks for transparency regarding what has been done and the next thing planned.
There are no predefined roadmap lists that you must follow in agile project management. However, some frameworks suggest a practical design of roadmap lists.
Simple Outlook to the Future
Roadmap lists are valuable to introduce the transparency of Product Owner plans. If your stakeholders and team need such visibility, create multiple lists, i.e.:
Funnel,
Considered Ideas,
Ideas in the Backlog,
For the Next Quarter,
Current Quarter,
Current sprint,
For Acceptance,
Ready to Deploy,
Done.
Scaled Agile Framework (TM)
Portfolio Kanban – Scaled Agile Framework tracks the preparation of epics or capabilities and features in the list with columns:
Funnel,
Reviewing,
Analyzing,
Portfolio Backlog,
Implementing,
and Done.
The card in the list represents epic or bugger functionality. The position in the list indicates the status of preparation. If an epic is in the Analyzing list, somebody prepares a deeper understanding of the epic. If it is in the Portfolio Backlog, epic is already split and can be found in the product backlog.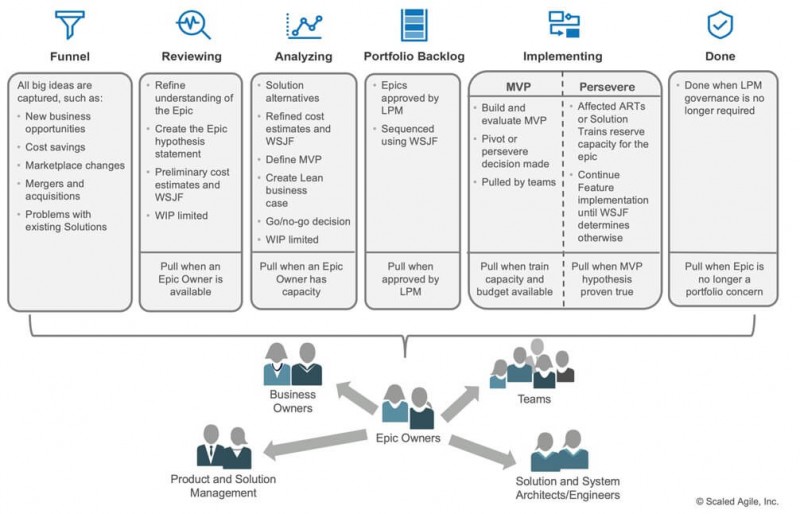 Program Kanban (Scaled Agile Framework) tracks the preparation from a deeper perspective. Very often, complex requirements require a much more significant investment of effort in preparing and aligning the company for the next epic.
Program Kanban tracks the preparation of epics or capabilities and features in the list with columns:
Funnel,
Analyzing
Backlog
Implementing
Validating on staging
Deploying to production
Releasing.
The Program Kanban board is often interconnected with the Portfolio Kanban board, especially for complex products.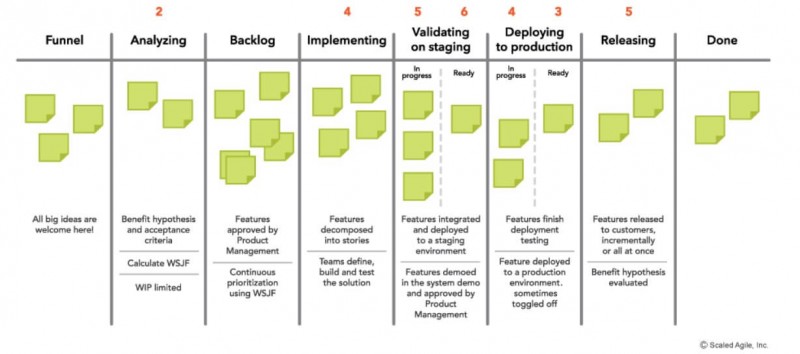 Prioritization Lists
Roadmap lists can be used not just for roadmapping process but also as a prioritization tool. Especially in workshops with multiple stakeholders involved, Product Owners need a simple tool to set priorities in the conversation.
With ScrumDesk, you can create a list with any name. Therefore, you can use it even to manage business needs, pain categorization, or per persona:
Business Value

Extra Small
Small
Medium
Large
Extra Large

User Need

Must
Should
Could
Wouldn't

Customer Journeys
Personas
Risk evaluation
Impact Mapping