Account Settings
Every organization using ScrumDesk has its own organization account. Details about the organization are used for the billing process so please fill them up accordingly.
Account details are accessible from the menu item Account settings displayed by clicking on the user avatar in the left menu. As your user account can be assigned to multiple organizations, you have to click the gear icon in the organization box. Only organization administrators or managers are able to access this page.
Account details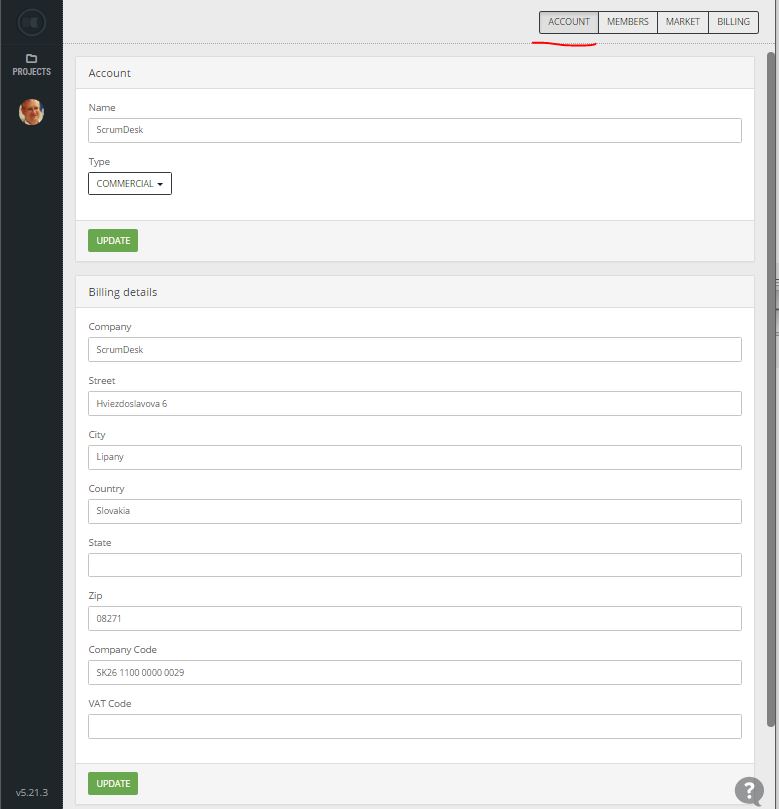 An organization account is defined by its name and account type. Ensure you selected the appropriate account type used for billing purposes. Charged accounts without proper details will be limited.
Account types:
Commercial – commercial company that receives 4 free user licenses + Scrum package for free. Additional are charged according to the Pricing page.
Non-profit – account for companies that are non-profit-oriented. We offer 20 user licenses + Scrum package for free. Additional licenses and packages are charged. Check the Pricing page.
Academic – for universities, schools, and students. Everything for free, all features, all user licenses. Your account will be examined by ScrumDesk sales to validate it.
EU companies must fill-up the Company code and VAT code.