From our personal experience, we are all aware that with a lot of work and outside pressures, working on your personal development, trying to unite and move forward a team of people can be quite tricky, especially as we share our personal challenges.
That's why at ScrumDesk, we decided to gather a number of valuable tips for your Retrospective. All of the resources are used by our mentors, whether as an inspiration or an example of dealing with common jams effectively and finding new suggestions for leader techniques, and evaluating the Retrospective. Whether you have 10 minutes to spare or an entire weekend, we hope and believe you'll find inspiration and ideas that can help you move people around you one step forward. Ultimately, Agile is not about ceremonies, practices, board meetings but about people.
Practical Websites
Multiple websites offer tricks, tips and practices for retrospective. In the list below, you can find multiple sources that range from examples for games to solving anti-patterns, a number of answers to questions you may not have even known you hadn't answered yet.
The third Retrospective in a row, and it ended up wrapped in a negative blanket again?

Retro is the final dot at the end of the iteration, and the health of the team is most important here.

Give out Kudo cards and celebrate even minor achievements.

#tip
Articles
Some shorter readings on how to deal with certain challenges regarding teamwork that don't only fit when applied to Spotify.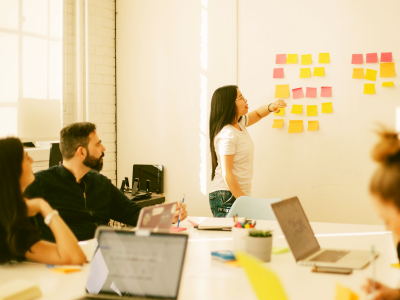 Harvard Business Review by Matt Plummer
If you don't have a Retrospective for four months, it can very easily happen that the next one you will have will last 6 hours 🙂

#truestory
Video lectures
Some people fill their free time reading articles or books, others prefer watching content. The same thing applies to our team 🙂 In the following videos, you can not only find shorter inspirational lectures, e.g., how to effectively confront your superior but also longer and more complex seminars.
The Retrospective is not just a ceremony. It is a session in which active listening, facilitation, and change management happen. In the following video lectures, you will learn what to do as a great Scrum Master in the Retrospective. How to observe the situation from outside, how to understand behaviors, resistance, disagreements in the retrospective. And how to come to conclusions.
Books
Last but not least, and for anyone who wants to go even deeper, here's a list of book recommendations from ScrumDesk agile mentors.