The latest build includes following changes.
Easier upgrade of repository
Repository is possible to update directly from ScrumDesk directly. Only SQL Server 2008 R2 is supported.
Please use Repository Manager in case your SQL server is 2005 or 2008 R1. This feature will allows us to distribute new versions smoothly.
Quick filter in Planning

In previous versions the backlog was possible to filter by click on the legend displaying the number of stories. We simplified the access to filter by new edit ine in which you can enter the text or Id of the story.  Stories will be filtered by press of Enter key. Pressing ESC key the filter will be cancelled.
Impediments management
Change of date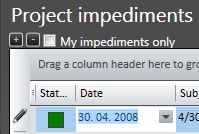 Date when impediments has been entered is possible to change now. To change it click anywhere into Date column and anter the date directly or choose it from displayed calendar.
Impediment status
Status of impediments is possible to change by any role (except of visitors) now
Persistent filters in Reports page
ScrumDesk now remembers selected sprint or release in Reports page. The sprint (release) is automatically restored as selection after Refresh command.
Other fixed issues
Estimated field is not saved in stories grid