Release date: October 16, 2009
Few days after the new version we are releasing a quick fix of problems found by the community.
As an addition is a new document available in Reports/Documents.
Document Sprint Stories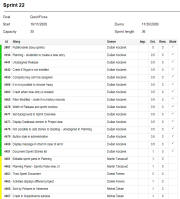 This document provides an easy access to all stories in selected Sprint.
It can be helpful if you are preparing a meeting with your management or customers.
Only subject, importance, estimated, and remaining time are displayed.
The status of the story is indicated by colored rectangle and icon
TIP: Click sprint in the timeline and refresh your document.
Enhancements
Document Sprint Overview – make gray labels in the report to distinguish them
Display Database version in Project view
Reports – Release and Sprint combos are too narrow
Defects fixed
It is not possible to create a new story by double click in Planning view for
It is not possible to choose Away online status
Company Key can't be assigned
Crash if Skype is not installed
Unassigned Release is displayed as date 01.01.1000
Filter – click on Modified section will crash ScrumDesk if there is no history (untypical situation)
Crash when a new story is created
Buttons in License view (administration mode) are not displayed incorrect style
Crash while calculating Velocity per Week chart
Document Sprint overview – Importance was not visible sometimes