ScrumImpulz 2018, the oldest Slovak conference about Agile practices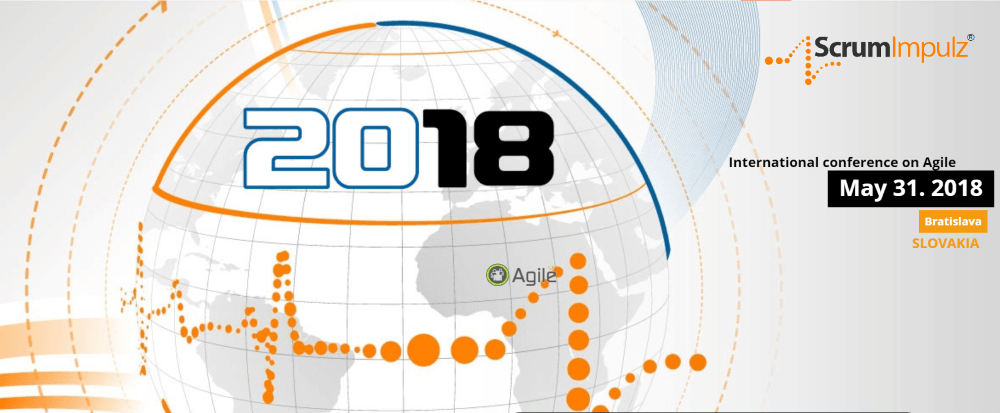 The sixth year of the Slovak ScrumImpulz conference will be held on May 31, 2018, in Bratislava. 
Like every year, we would like to bring quality speakers who do not only talk about Agile an Scrum but live by it in their real lives. There has been more than enough theories published in the past 10 years but the practice of it (even though I often don't understand why) is proving to be difficult.
This year we would like to add something extra. We want to bring our participants more of professional value, not just lectures, and at the same time to get you more involved and allow you to find answers to YOUR questions that are often much easier to be answered by the stories of others.
Problem with the Product Owner? Management doesn't get it? The client doesn't want Agile? Do Daily Meetups seem unnecessary to your team? Is your planning way too long? Retrospective, that essentially doesn't change anything? How to set JIRA correctly?
Do you have similar problems with application of Agile, Scrum or Kanban, that you don't know what to do about?
Ask experienced Agile mentors with the experience of dozen of teams.
Coaching Clinic is a concept, where you can identify the real causes of problems with the help of Agile mentor during a personal interview and try to find a cure for problems and processes s such as setting up daily practices or tools.
For the first time in Slovakia. Free during the conference. 
Have you ever read the book The Go-Giver that's about what happens when you give more than take?
Become the GIVER for at least a moment!
Share your stories with Agile practices during a brief 7-minute performance with other conference participants.
As a little Thank you, 3 of the presenters will receive a book about Agile.
30% discount for the conference participants. 10% discount for a group of 3 and more participants from one company. 10% discount for clients of the ScrumDesk company.
Discounts cannot be combined.
Agile and Scrum Fundamentals
– 2 days –
Practical training on Agile principles, differences between traditional and Agile approaches to work.
Roles and ceremonies in Scrum, their practical application in real life. How to prepare product definition, how to describe requirements, estimate using time and storypoints and correctly prioritizing and planning.
Then how to prepare the correct Kanban table, how to synchronize properly during daily standups.
And finally, how to do a perfect sprint review and retrospective that will make it easier for the team to work.
With lots of activities, Lego simulation of Agile planning and product building.
ScrumMastership perfectly
– 1 day –
At the certification training, you will get to know the role description of a ScrumMaster and his responsibilities. However, the main task is to introduce a change. That's exactly what you will learn during this accompanying course.
About ScrumMaster practices, what you shouldn't do in real life, what you shouldn't be as a ScrumMaster, how to co-operate with the Product Owner and Line Manager.
Stages of team development and selection of practices for a given stage, how to help the team overcome the resistance.
Identification of causes of the problems.
Techniques for perfect retrospectives.
Everything from practices on more than 100 teams we helped to get out of the Agile trenches.
Product Ownership practically
– 1 day –
For many, Product Ownership is about writing User Stories and setting priorities. Successful products, however, need a dedicated Product Owner who knows what clients need and controls effective techniques of the Product Management.
Learn how to identify the vision of a product and how to set goals and key results (OKR). Understand the client and users with Lean Canvas and Value Proposition Canvas. Transfer the client's life to the team with personas.
Then create a transparent and comprehensible backlog with themes, epics, and correctly written user stories. Agree with the team the Definition of Ready. What to do during a standup and how to prepare properly for a sprint review.
Bring your own User Stories and we will break them into pieces and put back together in a higher quality. You will learn to write them correctly based on your own, as well as our mistakes.
Kanban, effectively easy processes
– 1 day –
Are your processes not optimal? Do you have no idea how to speed up deliveries? Where do you lose time in creating and producing your products? How to make processes more efficient and transparent?
Kanban is a simple method to launch into a company, into working processes where the same activity is repeated.
During the course you will learn what Kanban is and its relationship to Lean production. You will learn to map your processes and identify narrow spots. You will design boards that support priority changes and different levels of support given by Service Layer Agreements. We will show how to set up the process rules.
You will get to know terms as a lead time, cycle time, how to measure productivity. And last but not least, how to identify improvements with the help of A3 thinking and root cause analysis.
If you want, you will also learn about how it differs from Scrum and what and when should you establish.
How to Scaled Agile Framework
– 1 day –
Do you already know everything about Agile Fundamentals? If so, Scaled Agile Framework is going to help you grow!
At the end, it doesn't matter if you apply SAFe fully or only partially. In order to create more complex products using Agile approaches, it is important to learn about SAFe techniques first.
How to prepare topics and epics, how to approve and define them before implementation itself. How to prepare a Program Board for coordination of multiple independent teams. How to organize teams to be able to deliver a larger product together.
How to prepare release planning for even 100 people where they'll be creating and not just dying of boredom. How to coordinate work of multiple teams.
How to prepare System and Solution Demos. How to measure progress and success of a delivery.
Is training necessary for you as well? If you have more than 2 teams that work on one product, you should participate.
The course is run by a certified Scaled Agile Framework Program consultant who was there at the birth of SAFe.
– 2 days –
Introducing change in an organization is one of the most comprehensive activities you will encounter. This is why many practices describe how to introduce changes. Let's mention Kotter's model, McKinsey 7S and so on.
This certified training approaches a simple, lean change management that has already been applied in several companies abroad. His author, Jason Little, built in on the basis of experience with the introduction of Agile practices as well as Agile transformation, in which he actively participated in.
You will learn about the mindset and tools for managing changes. You will learn how to map the organization and its readiness for change. You will learn how to use CHane Canvases for design changes. You will get to learn how to make hypotheses and experiments of changes.
You will receive a Lean Change Management book and an access to a private Slack Channel where you are able to collaborate with other participants of this training.