This new version brings two important features:
support of Windows Azure cloud data storage
project-level impediments and
auto-upload of changed attachments
We continue to add additional rules into the integrated coach module you found usable to identify gaps in your agility. We also have started a collaboration with agile coaches to bring more knowledge into this tool and get coaches closer to you without huge investments.
We also continue in optimization of speed, started to focus on bigger LCD screens teams use as dashboards during meetings.
Download
online installation including automatic upgrade
offline CD installation without automatic upgrade
Notice
A database upgrade is REQUIRED. Please, use the latest Database Manager to upgrade your database.
for SQL Server 2008 R2 and Windows Azure
for SQL Server 2008 R1
for SQL Server 2005
New features
Windows Azure Cloud

ScrumDesk supports cloud now!  We are proud to be one of the first providers of Windows Azure cloud in Slovakia.
Usage of Windows Azure allows our client to host repositories in a highly reliable, scalable, and secure environment that provides great performance. Moreover, with Azure, you have two replicated repositories provided automatically.
To use a cloud database in Azure you need to just install it using database manager and then connect to the newly created repository in ScrumDesk. Nothing else is required.
And the best, Azure is supported for free from us. We do not ask for additional charges for it.
Agile Coach
Issues filtering
Issues can be filtered by the role of a team members. This feature allows focusing on issues that are really important for the user. It is possible to choose more roles at the same time.

New Rule
Progress of checked-out tasks – tasks that are checked out should be updated daily. If they are not updated, then the fundamental principle of visibility is broken.
Impediments
Project level impediments
Now, impediments are not necessary to be related to stories or tasks only. Track any impediment related to a project. Impediments can be entered in the Impediments window now.
They also can be edited in this window, so it is not necessary to open the story or task detail window.

Indication of remaining days
The number of days till the end of the sprint is displayed in the timeline.

Timeline
Newsprint can be created directly from the timeline by pressing + button.

Attachments
ScrumDesk is the box for dropping files
All attachments can be opened from ScrumDesk, edited, and automatically uploaded back to the repository. This feature allows to have documentation current and in one place.
Attachments can be renamed now as well.
Kanban Board
Card size in Kanban board can be changed between small and large cards.  The new commands to switch between the size are located near the zoom slider in the task board.

The small card
The small card is not changed compared to the previous version.

The large card
This card displays:
task id
task subject
the picture of the assigned team member
progress bar of the current task status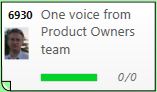 Fixes
Optimized speed of  project load
[Attachment] Renamed attachment is not possible to open
[Attachment] Attachments are duplicated after the first refresh
Visitors are not able to change release type and release status anymore
Sprint details are not disabled for visitors, they are read only instead
Incorrect data written if attachment is updated
Blank pages in documents should not be displayed now