Doing agile are many obstacles identified. It is not easy to check what does well implemented agile means. A scale of changes that agile transition has brought is often big and related to more areas – to product, project, leadership, team, tools, development practices and organization as well.
The question asked by teams is "How to identify problems more precisely"? Is there some way we can ensure we are doing what needs to be done in correct way? Is our adoption correct?
Scrum Checklist
An easy way is to use different scrum checklist which are available on Internet. The one, we are using, is Scrum Checklist written by Henrik Kniberg.
It is a set of 70 questions that are easy to be filled up in 15 minutes. We ask team members to fill it after three or four sprints. Checklist are filled anonymously and after we collect them, we do identification of biggest obstacles.
What needs to done to fix the problems is separated session with the team in which we make these problems visible and painful, but with agreement and commitment of the team how to fix it and when.
Comparative Agility
A new interactive solution has appeared in the last few months. Comparative Agility (collaboration of Mike Cohn & Kenny Rubin) provides a solution teams can use to identify problems more precisely and to compare the results to other companies. It is this comparison that is valuable to understand where your adoption process.
The solution is easy to be used even your teams are distributed. Another advantage is immediate access to results without additional post-processing of received feedback.
Questions are categorized to different areas asking about teamwork, management, communication, requirements process, planning, design etc. The answer team provides have a scale. that allows the comparison.

The results are displayed in nice charts with standard deviations in which teams can identify areas with the biggest gaps that need to be addressed.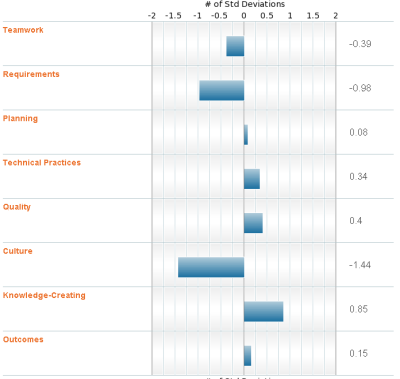 What does it mean for ScrumDesk users?
ScrumDesk company is the assessment partner now. The partnership allows us to help you to provide an account for your company to validate your adaption regardless the size of the company and the number of locations.
We are ready to help you:
to determine which parts of the organization need to be assessed
to provide a unique access to Comparative Agility solution for your teams
to interpret results
to suggest you the next steps to improve your agile adoption
Feel free to contact us if you are interested in. We will be glad to help.