ScrumDesk just gets better!
We invest a lot of effort to bring this release, but only now we are delighted to see how much we have done!
We would like to thank all people sending us feedbacks, comments, and requests. Let us send our 'Thank you' to Nicolò Carandini, people from Coopex Soft, to Giavinh and many others that did not forget to ask us about improvements!
New features
Top three features?
New grid with lot of new capabilities
Multiple tabs
Tons of improvements
Grids
We are happy to announce upgraded grids providing a new experience and features you wanted from us for a long time:
Performance, performance, performance, memory
Hide/display columns
Sub-totals calculation
saved UI customization (displayed fields, an order of columns)
improved editing (Excel experience)
Data filtering by selection from list (like in Excel)
Multiple data filtering
Possibility to fix columns in a grid
Position information while scrolling
Improved were all grids (impediments, absences, stories, ideas, team, etc.).
Multiple tabs

Multiple views on data stored in ScrumDesk are necessary especially if planning stories or tracking more parallel sprints, projects or products. ScrumDesk now displays sprints, backlog or retrospective in multiple tabs.
Click the first button to see all boards at once.

Desk Auto layout
Card positioning can be boring especially while creating a big backlog.  ScrumDesk now allows users to auto layout cards into multiple columns and rows according to three criteria's.  Enter a number of cards in a row, then select first criteria to sort stories according to and optionally choose other criteria.
Progress line

Recognize status of your sprint without a click. Desk view now provides visibility to the status of stories in the current sprint. Status of stories is indicated by integrated chart and using status colors.
Roles names customization
ScrumDesk is used by non-IT companies as well. Their pain were names of roles that did not fit into their environment. As Scrum Master, you can assign aliases to roles integrated into ScrumDesk.
Email notification
Notification by email was improved. Now you will know about changes of stories, comments or impediments. We will send you information about what part of the story has been changed.
Notification can be enabled/disabled by the user. Emails are sent every 10 minutes and before exit.
Stories
Story Type
Organize stories in a new way. ScrumDesk brings the best possibilities on market to organize stories by different attributes while they are still not required.
Story types allow product owners to mark stories as user stories, technical stories, defects, epics, etc.  Types are fully customizable by Scrum Master or Product Owner on the Project page. Type can be entered in story detail window or grid. Validate status of stories based on type in the treemap.
Flagged story
Team members need to flag stories they should work later. This small, but handy feature brings this capability to story card, detail and stories grid. Flagged story is marked with a small star. Flag/Unflag the story by click on this star.
 Internal story
Why Internal story? Some stories should not be visible by visitors even if they are allowed to log in to project. Click symbol in story card's toolbar or in detail window and only non-visitors will be able to see and access them. Consider that export of internal stories will not filter them.
Private story
Even agile environment must support sharing of information (as openness is fundamental principle) we decided to implement the possibility to markup story as private. This way team members can hide stories that are not relevant for team members and can be considered as a personal To-do list.
MoSCoW prioritization
MoSCoW is a way how to easy prioritize stories into basics groups (Must have, Should have, Nice to have, Won't have). See more in this Wikipedia article.
You can prioritize stories in story detail window or grid. Check distribution of stories using tree map to validate your priorities and current status.
Move story to Backlog
The story can be moved back to backlog dropping it on the Side view or in Planning. Now this action is simplified by selection of from Sprint combo box in story detail window.
Story's people

The panel at the bottom of desk displays pictures of people working on selected stories. Click on a story or select more of them and you see all developers at once. We will bring much more with another new release!
Release

Types
Release types are very often used in enterprise companies to ensure that release will fit the correct environment. There are different types (production, internal, testing, development etc.). The good news? Release types are customizable in project customization page!
Release status
Real experience and your feedback learned us that not every release is the same.
You need to recognize not just status of sprints or stories, but releases as well.
Product Owner or Scrum Master can now enter the status of the release from combo box located in release dialog. Current statuses? Fully customizable, but we deliver default statuses (Planned, Developed, Completed).
Release and Sprint Planning
The most visible change of UI was implemented in Planning view.
We hope this change will:
help you to provide much more information necessary for planning in the same view
Allows to see more stories
Identify them as ID is displayed on cards
See status of sprints backlogs by new status track area
validate the relative availability of team members as they are displayed at the bottom of the planning screen
see best practices value to better estimate capacity of your next sprint
edit sprints details in place
work better with a unique feature on the market: possibility to plan more releases in one sprint and break release into more sprints.
double-click release or sprint in top list to display details
double-click stories to display story detail
drag stories between the lists
Sort stories by status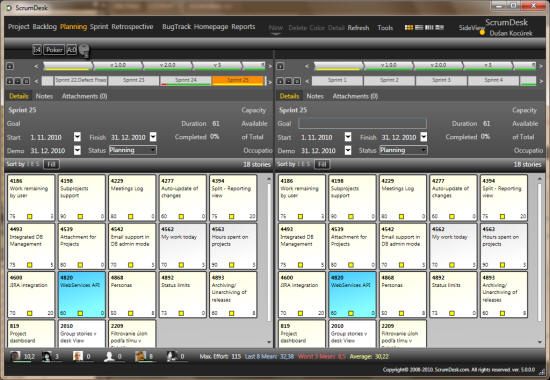 Autofill sprint
To make planning easier we implemented Autofill sprint capability. Stories will be moved to sprint backlog according to Importance up to the capacity of the sprint.
Configure capacity of the Sprint, check if stories effort is estimated & press Autofill button. Stories will be automatically moved into a sprint!
Planning Poker
Compare complexity of user stories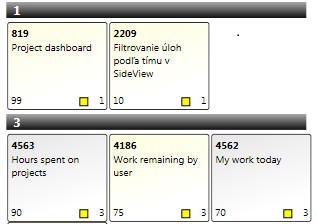 Many of you asked to improve a view of stories displayed in planning poker lists (smaller, larger) and implement grouping of them according to an effort.
Grouping combines the best approaches to estimate stories: Planning Poker and team relative calibration.
Activities

We redesigned how activities are displayed so they are more readable and information are grouped by type, id and time.
Now you can filter activities in some period which provides the perfect possibility to get through project's history.
What we improved:
Filtering data

information bar indicates active filter
filter available by click on the Filter button in right top corner
filter 'By modified date' and enabled highlight is indicated too

Board

the board is loaded now 50% faster
zoom is restored when switching between different backlogs
less memory is required now due to simpler card UI

Fixes
[Fixed] release description has not been saved
[Fixed] Crash if cards switched to Task mode
[Fixed] buttons +,- remains displayed if cards switched to other view
[Fixed] Impediments tooltip not displayed in burn down chart
[Fixed] Report Value in time not displayed correctly if project longer than two years
[Fixed] Activities now displays only activities in given project, not from all projects in the database
[Fixed] Not possible to add new tasks if story has been done, button + disabled
[Fixed] Release information were sometimes lost while moving story in planning mode
[Fixed] Acceptance criteria not copied
[Fixed] Categories combo box is empty in some cases
[Fixed] Crash if impediments sorted by status or story column
[Fixed] tasks were stored more times in database (in some cases)
[Improvement] name of sprints are better predicted in Release Burn-Down chart (prediction of end date)
[Improvement] Impediment tooltip should displays the name of related story as well
[Improvement] Acceptance criteria now exported into Excel format
[Improvement] Possibility to save error to file. Some users are not able to send an email because of policy.
Improvement] SideView was not visible if multi-monitors configuration has been changed
[Improvement] Simplified layout of Login dialog
Version 5 is available at https://www.scrumdesk.com/Download/FullNG/v5/Publish.htm.