ScrumDesk v3.14.2 brings major changes we think you will like. Our aim for this version was to speedup the tool, increase security and usability. Changes are not so visible for the first sight as most of them were internal.
Context menu
For easier planning we have added context menu for backlog items with possibility to move, or split backlog item into either other sprint, release or product backlog. Right click a big card to access context menu.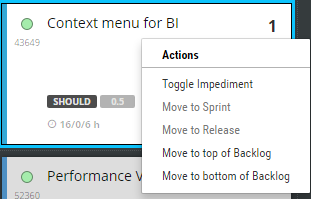 Major changes
Finalized import from JIRA.
HTTPS supported.
Notifications in email and Slack about new epics.
New quick filter for risky tasks that team will not be able to finish till end of the sprint.
These risky tasks are identified in TIPS section as well.
Major performance and architecture changes to increase performace and usability of the tool.