Auto-assignment
Are your team members lazy to update the board? Are you poor scrum master who updates cards of team members?
ScrumDesk auto-assigns task cards on drag and drop intentionally. However, there is still some, however. However, some scrum masters who support not-so-agile teams needed to update the board without auto-assigning their name. Now you can configure that in your projects settings.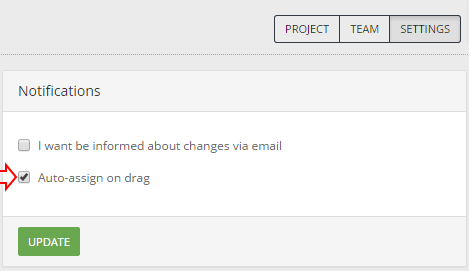 The latest changes
Are you lost about the progress after few days? Click Changes icon 

in the right bottom corner to see a list of all changes that ever happened in your project. Click on the item to display details of changed entity.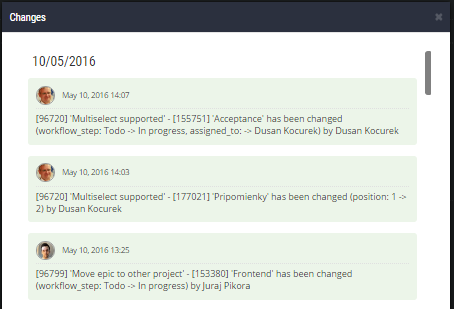 Company Account
Possibility to add new organization account, the user can work in more organizations at the same time.
Possibility to rename organization name. Sorry, it wasn't possible for a long time, but we did our best within support meanwhile.
Organization name must be unique. Sometimes you observed strange use accounts in your team as they created the same organization as you were. Never more.
Organization details allow entering billing details as well now.
Don't you enjoy ScrumDesk? We are very sorry to see you go. Maybe we can help with some new features. If not, close your account in Account settings. Possible now without asking us. Anyway, we will miss you.
User Story Map improvements
The unassigned column is fixed now so you can easily drag unassigned cards to the appropriate place on your map. The focus is not changed after drop so you still can continue without losing details in your side view. Multi-select is supported via Ctrl and Shift. We have added an even possibility to edit multiple cards at once. Just edit data of selected cards displayed in the side view.
Minor
Task ID displayed on tasks cards to easier reference them in your communication.
Task URL supported finally. Send the link to your task or backlog item via email. Click on the link will display its details in the side view.
Aren't you notified enough? Slack channel displays new comments as well. Keep spamming.
In sprint combo boxes we display version number (version/sprint) as well so you can easier distinguish sprints with equal names.
BI type has not been copied from story template to backlog item created from it.